Our high visibility Blood Bike Vest is used by volunteer bikers throughout the UK.
​​
Pockets made from polyurethane-backed nylon.

Fully adjustable side fastenings. Can be adjusted from Small to Large.

Fully adjustable shoulders with radio handset pouch (removable via Velcro attachment) on one shoulder, 2x webbing loops on opposite shoulder.

Double mesh construction for durability with full-length, front opening heavy duty zip.

Mini Maglite torch pouch.

Multipurpose pocket with split ring for attaching lanyards etc.

Note book pocket/First aid pouch.

Multi-functional pocket.

Internal pocket with front zip opening.

Wallet key-ring holder.

Double pen holder.

Large back pocket with side openings, large enough to carry folded lightweight jacket.

Plastic badge holders to front (2) and back (1) of vest.

Hi-Vis Epaullets

Blood Bike Badge set included with the vest.

Vest is not a class 3 garment.
Blood Bike Vest, Front
Front of the Blood Bike Vest
Blood Bike Vest, Back
Back of the Blood Bike vest
Blood Bike Volunteer
Blood Bike vest in action
Blood Bike Vest, Front
Front of the Blood Bike Vest
If larger sizes needed, please contact to order larger vest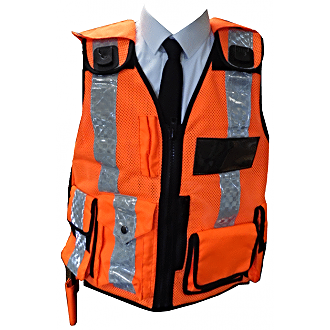 Security/Dog Handler Vest
Black security/dog handler vest
Orange Security/Dog Handler Vest